DAY ONE -- "I'm playing a Titleist 4"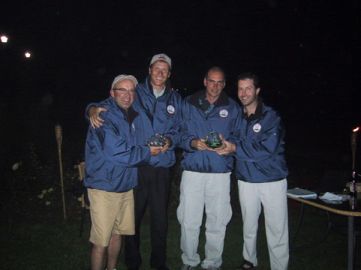 Refreshed from a few hours sleep, the Crabs & Shrimp arrived to take on the Peter Thomson-designed Bin Hai Golf Club and its 155 punishing bunkers. Overcast and light windy conditions quickly turned to drizzle, further toughening scoring conditions, before clearing for the play on the second nine.
Atafua and Chapman jumped into the early lead in the best ball with a stellar 6-under 66, putting Hubcaps and the other "no-a-showa" Calcutta hecklers into their places. Stevie-B and Farmboy found themselves in second place, one shot back after a fine 67, a strong score considering neither had seen the course before.
Sweetwater and Dimebag carded a 68 to grab third place, perhaps fueled by the adrenaline of a Random Shot Generator / Slim Shady pairing which at times attracted a large unruly gallery.
Speedbump and the Swede used a combination of Macallans and high fashion to eek out a 2-under 70. The broomstick caught fire.
Defending champs Ryan and the Hedgehog struggled to a 75 which included a disappointing net double-bogey finish and wondered if they could find the magic that made things click in 2001.
Respectable rounds of 1-under 71 were carded by the "san mi" team of Thalin & Cigar McCann, the "V" for victory team of Don Vincenzo & Bill Varconie, the quiet team of Eskimo Nell Airdrie and Crazy Jerry, as well as the K-squared web head team of Yumbo and DaTou.
DAY TWO -- "Is the Joe-T rule in effect?"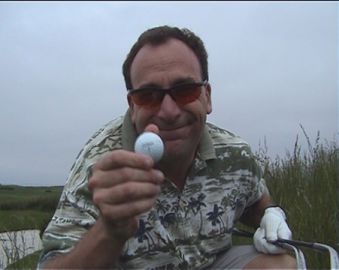 Crazy Jerry made up for the bus's late departure by explaining in great detail the foibles of love and how having roommates like Slim Shady tend to alter one's rest schedule.
Corn Dog acquitted Loco Gerbraldo of all charges, despite being a solicitor and not a barrister, and nobody seemed to care so off they went with Pizza-the-Hut helming the mountain of Bud cases in the back seat.
The competitors arrived to find ideal conditions at Tian Ma Golf Club. Eugene and Bruce had indeed worked their magic on the course and even came thru with some additional tourney giveaways, although the normally pampered players were a bit miffed to have to pick up their own practice balls, especially when they failed to hack them out onto the range past where they were found. That setback quickly forgotten, the Crabs & Shrimp saddled up on their Ez-Go's and headed into battle, hoping to survive the alternate shot.
Sweetwater and Dimebag jumped into the lead with a 10-under 62 net off a record-setting even par gross. Dimebag scratched his head after the round, and after verifying that he had indeed hit 36 of the 72 shots, decided that card-carrying Shrimps can have game too.
Atafua/Chapman, Stevie-B/Farmboy and Speedbump/Swede all carded alternate 4-under-par 68s to stay in contention after 36, which prompted observers to ask if the best chemistry might be a Shanghai/Hong Kong hybrid team.
Canadian Pascal and Chandra the fast talking Australian played themselves back into contention with a 9-under 63, which put them into sole possession of fourth place going into the final round. Chandra and commrade-in-arms Yarpie then wandered off in search of more Caiparuscos and/or Kickin Chickens.
Meanwhile, the best-dressed competition tightened as both Per and Ulf showed their competitors exactly why Sweden exports phones and vodka instead of textiles.
Over 100,000 RMB in total was raised for the Fudan University Children's Hospital, with numerous player-donated trips and prizes going to the highest bidders on Saturday's bus ride home.
DAY THREE -- "Anyone seen The Pin?"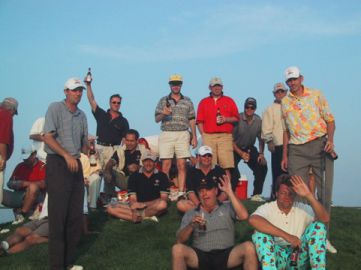 Speedbump/Swede were fast out of the blocks on Sunday, throwing up a hot front nine score onto the chalk leader boards. Everyone wondered what magic magumbo Speedbump was drilling into the Swede's cranium.
Corn Dog/Hubcaps got hot and made a run at the lead, passing Stevie-B/Farmboy, Pascal/Chandra and other teams which were either hitting it too many times or fumbling the addition. Hubcaps was truly in the zone, doing his best John Wayne impression as he rode his pure swinging Australian stallion (mule?) up the leader board. But would it be enough ?
007/Junior and Pin/Patio Man were also en route to posting impressive 27 point and 24 point finishes , respectively. Junior has his Pelz Putting Bible out, ready for action, but 007 put it back in the bag and showed his Shrimp how to play the "smash it and find it" offense. On the par-five 11th, two shots by Patio Man Lomason and Pin's 25-foot eagle putt into the back of the cup resulted in a quick 8 points and a phone call to Hubcaps several holes back. Pin's hard high five, after the eagle putt, forced PatioMan to play one-handed until he could ice down the bruise.
An opportunity to ice the tournament came at the par-five 17th. Speedbump/Swede needed to convert a 4-foot putt for the net eagle and sole possession of the lead. Two well-struck misses, the second doing a 360 lip out around the cup.
In the end, Sweetwater and Dimebag were too much, drawing upon last year's road-hardened experience of frolicking thru the Northern European countryside in search of companionship. They salvaged bogey on the last hole to claim their first champion jackets.
Numerous records were shattered including lowest total score (-36 by Sweetwater/Dimebag), lowest stableford score (-29 by Corn Dog/Hubcaps & Speedbump/Swede) and slowest final round (5 1/2 hours by Yumbo/DaTou).
The Swede also took home best-dressed honors, edging out 2-meter Thalin in an extremely close Arthur Andersen audited vote-off with the Canadian judge admitting that the Russian judge did indeed influence her vote, but since she voted for Super Mario it was determined that the vote would stand as is.
The bus ride home echoed with another rousing rendition of a traditional song re-engineered in Australia for the event (sung to the tune of "I Can't Help Falling In Love With You"):

Wise men say
Only fools drink DOUBLES
But I can't help
Drinking a DOUBLE with you

Shall I go
Or shall I drink another DOUBLE
Cause I can't help
Drinking a DOUBLE with you