The Hairy Crab hitched a ride on One Sky's entry in the 500km Endurance Race for Charity at the Zhuhai International Circuit in December 2014. One Sky reports...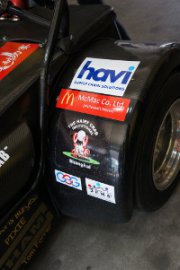 "I hope this email finds you well.

We are thrilled to let you know that our drivers finished the 500 km Endurance Race in 1st place in Class A and 2nd overall and HK$549,319 has been raised from the event.

Thank you once again for your generous support to the orphaned children in China. Below please find the photos with your logo on the car."