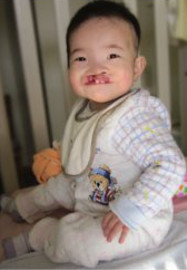 HuiYing was just one year old when she arrived at The China Care Home. A few days after her arrival, she was sent to hospital for surgery to repair her bilateral cleft lip and palate. However, during her hospitalization, her doctors discovered that she had a heart defect that needed to be surgically prepared. But HuiYing's heart surgery also had to be postponed because she developed pneumonia and a high white blood cell count. Her surgery has been postponed several more times because of chicken pox or a cough or a high blood cell count. Meanwhile, HuiYing's nannies at The China Care Home have been taking good care of her so that she will be able to heal and get strong for her surgeries.
When HuiYing first arrived at The China Care Home, she couldn't sit steadily by herself. Her nannies helped her do a lot of exercises every day to improve her physical condition. Now, she can stand and walk by holding on to the bars of the crib. She is a very active girl and never stops crawling or turning over on the gym mat. Sometimes, she is mischievous. She crawls to the nanny who is bottle feeding a baby and wants to grab the bottle.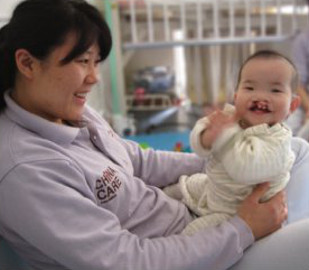 HuiYing is a good mimic. When she sees a nanny clap her hands, she also claps her hands immediately. Her appetite is quite good. She can eat a whole bowl of baby food. In order to prepare for the coming lip repair surgery, her nannies use the bottle with a cleft spoon to feed her milk so she can get used to it because cleft babies have to drink milk in this way after their surgery. Soon HuiYing will undergo heart surgery and then after she recuperates, lip repair surgery. HuiYing will then have a healthy heart and also more beautiful smiles.